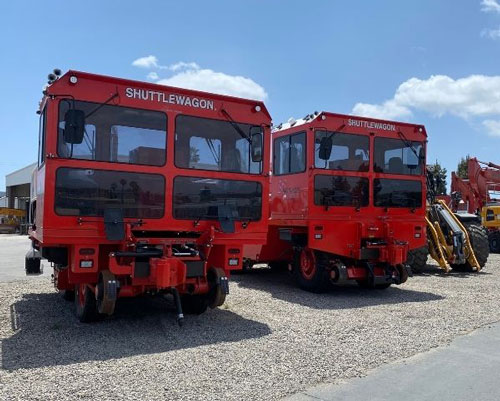 Kansas City, Missouri – (June 1, 2021)
Shuttlewagon, a division of Wabtec Corporation and a leading manufacturer of rail car handling solutions, is proud to announce that Bejac Corporation, headquartered in Placentia, California, has been appointed as the exclusive authorized dealer serving California, Nevada, Utah, and Arizona effective June 1, 2021.
"We're extremely thrilled to be able to partner with such an established customer-focused company as Bejac," said Oz Gocmen, VP of Sales at Shuttlewagon. "Like Shuttlewagon, Bejac thrives on customer service and providing quick and exceptional support for new, used, rentals, parts and service. Our customers in the west are in good hands with Bejac."
Since 1985, Bejac has provided specialized world-class equipment solutions and aftermarket support to critical infrastructure industries through their network of twelve dealership locations. Bejac's dealerships provide fixed-based and mobile operations for diesel and electric rail car mover sales, rentals, service and aftermarket solutions required by customers maintaining active rail-based supply chains and production infrastructures.
Bejac will be the first-stop for all diesel and electric Shuttlewagon customers in California, Nevada, Utah and Arizona. For customers in the Bejac area needing parts, service, rentals or sales information, please call 800-77-BEJAC or email sales@bejac.com.
Shuttlewagon has been a leader in the design and production of diesel- and electric-powered mobile railcar movers since 1972, helping industry improve workplace safety and operational performance. No other mobile railcar mover manufacturer offers such an extensive and innovation-rich product lineup to meet highly technical and complex solutions. To learn more about the electric and diesel options available for purchase, please visit www.shuttlewagon.com.
For press or dealer inquiries, please contact Tom Owen at Shuttlewagon – towen@nordco.com.
For more information on Bejac, please visit www.bejac.com.
To learn more about Shuttlewagon's industry leading product line and features, visit http://bit.ly/ShuttlewagonRailcarMover To stay updated on all of Shuttlewagon's innovations, features, and expanding product line, please follow us on LinkedIn and YouTube.